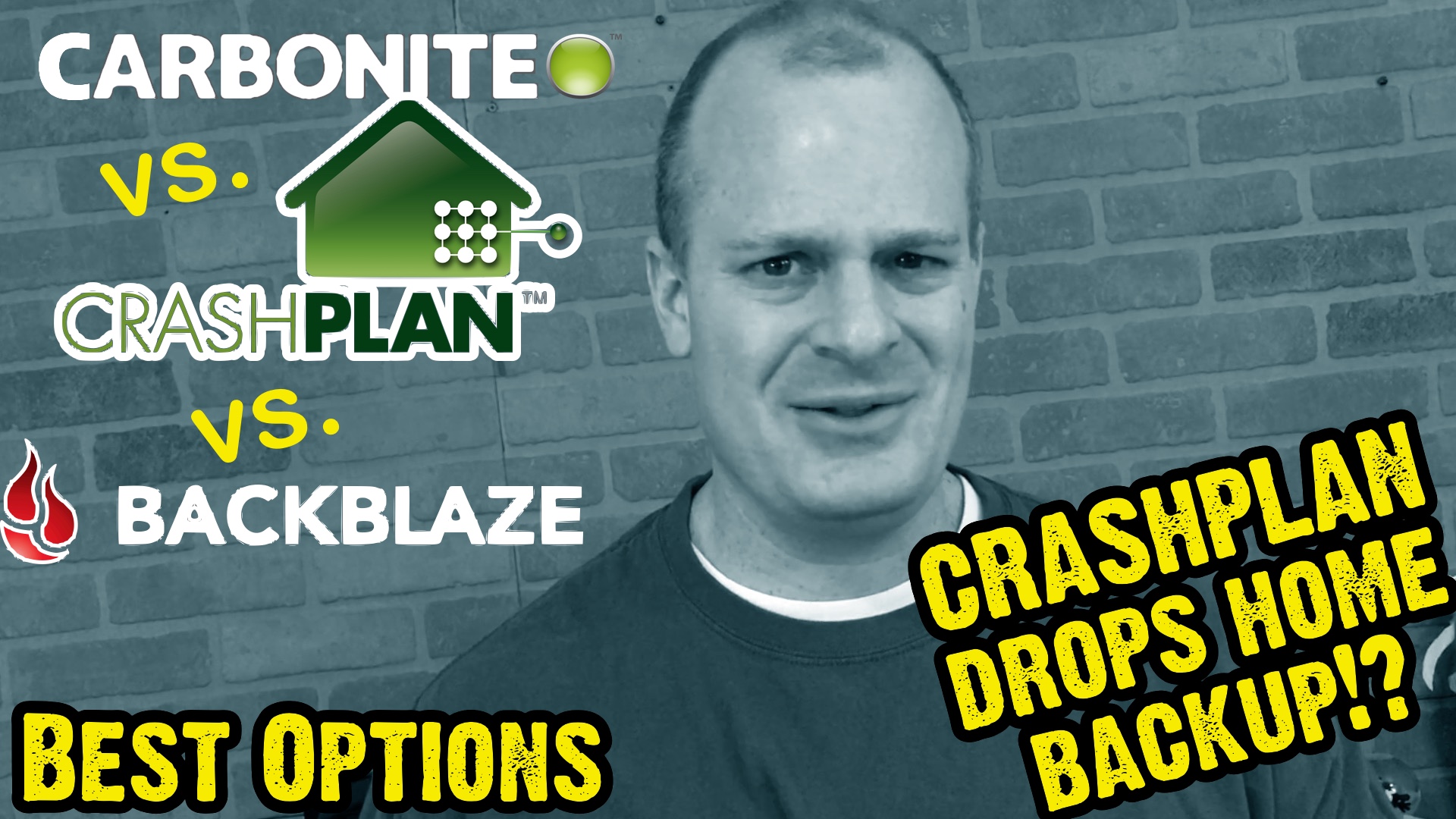 It's a recurring comparison for producers: Carbonite vs. Crashplan vs. Backblaze. What is the best off-site backup solution for those of us who producer large volumes of media?
I switched from Carbonite to Crashplan on August 11th after over 7 years with Carbonite. Eleven days after signing up, Crashplan announced that they are no longer going to be in the home backup business. I had been in contact with customer support about purchasing the home service just before signing up, yet Crashplan failed to mention that their Home service was about to be dropped. I considered asking for my funds back (primarily because I feel like there was some deception going on), but I decided to stick with Crashplan. Here are some factors along with my experiences for those trying decide between Crashplan, Carbonite and Backblaze following Crashplan's big announcement.
1) You can migrate your account to the business plan immediately with no up front cost;
2) After migrating, you will retain your remaining service time that you had under the home plan plus two free months. Since I just signed up, the 2 month extension being given to home customers brings me to October, 2018;
3) After your remaining time (including the two free months) expires, you'll get 75% off the small business plan for 12 months. At $10 per "device" (i.e. computer; iPhone. External drives are included without extra fees), that brings you to $2.50 per month for one computer for a year. In my case, that's $30 for the full year (one computer on the plan), including my external drives;
4) As mentioned above, I have been with Carbonite for about 7 years. Until a few years ago, I had a Mac pro with my drives INTERNAL. Now that I'm on a MBP, my drives are external, meaning NONE of them are covered on the $59.99 Basic Carbonite plan. So, I'm effective penalized because I use a laptop. My $60 Carbonite plan no only protects a single 256GB internal drive, whereas it used to cover 4TB of internal drives;
5) Despite the previous point, I initially switched to the $99.99 Carbonite Plus plan so that external data would be covered. Taking into consideration the 2 month extension for early renewal every year at Carbonite (and that I preferred Carbonite's interface), I didn't find the price difference deterring enough to make the switch to Crashplan. However, I quickly found out that the extra $40 only allowed me only ONE external drive (a minor detail that wasn't so clear in Carbonite's email)…yes, ONE!
6) I figured I would try getting along with only one covered external backup drive since Carbonite's transfer speed was supposedly faster and, again, I liked the GUI more. However, I found that the speed was NOT noticeably faster than Crashplan;
7) After seeing some odd behavior in the Carbonite control panel, it seemed that Carbonite was having trouble with my external drive. It turned out that that, not only could Carbonite only handle ONE external drive on the Plus plan, but it could only handle ONE partition on the ONE external drive! I confirmed this with online support. They suggested moving everything to a single partition. This was simply is not an issue with Crashplan. That was the end of my virtual rope with Carbonite.
8) For those interested in Backblaze, I did signup for a trial a month or so ago. I can't remember why I cancelled before the trial even expired, but I think it was a mix of transfer speed, the interface and multiple online reviews specific to Backblaze.
BOTTOM LINE
Carbonite feels misleading with its online ad for external drive coverage under its Home Plus plan. I had to jump through hoops to figure out the limitations. (Even the customer support rep I spoke with wasn't familiar with the partition issue.) I find it frustrating as a consumer that $60 covered 4TB of data when the drives were internal, but now only 256GB because I switched to a laptop and my data is external. The additional $40 cost for the Plus plan so that ONE partition on ONE external drive is ludicrous.
Although it feels like Crashplan may have been deceptive by withholding information about canceling the home backup service, I found their online support very clear and direct. Additionally, the offer extended to home customers, under the circumstances, worked in my benefit ($90 for nearly 26 months of small business backup service).
The transition from Crashplan Home to Crashplan Small Business was easy. You'll see confirmations for the free months and 75% discount in the following year. Crashplan spent most of the day reassessing what it needed to backup, but it was back on track when I checked this morning. I didn't have to reinstall or touch anything on the Mac side. However, you will need to switch to the Crashplan Pro app on iPhones if you use the mobile app. Customer service seems to be pretty quick to reply as well. (It's almost like they had some idea customers would freak over the announcement.)
COST
After the discounted year with Crashplan, the cost goes up to $10/year per device. Essentially, the cost doubled from $60 to $120. The closest plan on Carbonite would run $99.99 (Plus plan). It's currently on sale for $74.99, but you can get a 50% discount off the regular price if you choose to switch from Crashplan. Again, be warned! The Carbonite Home plans will not cover multiple external drives or more than a single partition on one external drive. Backblaze's basic service is currently $50. If cost is a big factor, you may want to check it out. Although I didn't care for it, they do have happy customers. I would be surprised if they don't change their price structure now that Crashplan is exiting the Home backup market.
Please feel free to share and check out my video explaining the above. If you're using a different provider and can add some insight, please feel free to weigh in below!
SaveSave
SaveSave